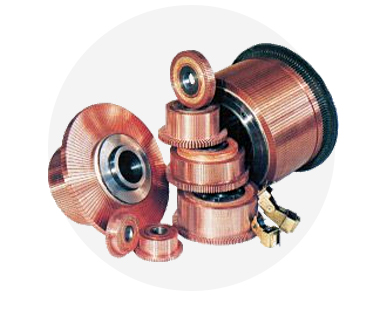 ZELTECH-ME Spolka z o.o. (Ltd) has been dealing with commutators production for many years. Commutators (new copper) repairs are also one of our main tasks.
brush - track diameter 50 ÷ 950 mm
copper length 15 ÷ 600 mm
insulation class - F, H
copper Cu-ETP (normal), CuAg 0,03; CuAg 0,1P
segments insulation

remikanit (normal mica)
inorganic mica

electrical tests:

segment - segment: 500V
segments - ground: 2500V (on request - 5000V)
We manufacture following types of commutators :
moulded commutators
commutators with shrinking rings

with steel sleeve
without steel sleeve (floating commutators)

bandaged commutators
commutators of flat brush - track (flange commutators)
screwed commutators (with bolts or nut)

with mica cones
with cones made of kapton
We deliver 80% of our products to Germany, Belgium and France.
Commutators are produced to order as individual pieces (special order) or as a small series only.