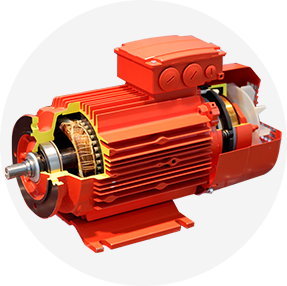 Induction motors:
single - phase motors and three - phase motors
multiple - speed motors
slip - ring motors
motors adjusted to rated voltage required by customer
high - tension motors
motors of special construction
Direct - current motors:
power - up to 600 kW
motors for forklift trucks
Three - phase A.C. commutator motors
Direct - Current generators and alternating - current generators, exciters, amplidynes, frequency converters.
Our company also specializes in adaptation of electric machines according to customers` special requirements. We can offer the following changes and modifications:
rated voltage
rated speed
construction:

feet and flanges
additional ends of shafts
non - typical ends of shafts

insulation class
Repairs include among other things:
Removal of old lacquer coating from repaired parts of electric machines in a furnace with Pyrolise process, which does not cause any damage to sheets of stators and rotors.
VP - impregnation with high quality lacquer
Dynamic balancing of rotors
We can also offer:
expertise and consultancy service
VP - impregnation of coils belonging to our customers
manufacture of coils made of shaped wire
winding of new, delivered by our customers, stators` laminated core assemblies
We guarantee:
the highest quality of wire and insulating material used for repair process
final tests corresponding with EU standards.
We provide 12 - month guarantee for our work range.
This warranty period can be extended up to 24 months.